Dance Floor Hire
Choose from a wide range of dance floors and dance flooring
Dance Floor Hire
Why book your floor with us?

We have been providing dance floors to the public and to the events industry at the highest level for over 20 years. We always strive to be at the peak of all technological advances and only stock the industries best quality floors. We work very closely with the manufacturer of our floors and quite often work with them to 'test drive' new products. With our close relationship we can always guarantee to provide any size of floor you require.
---
White LED Starlit Dance Floors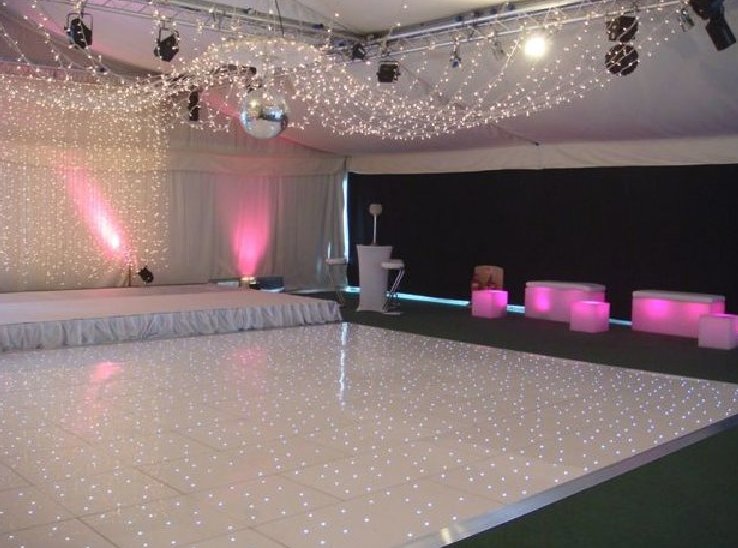 Our white LED starlit dance floors are the perfect addition to your event or celebration. With our own in house refurbishment service we can always guarantee the highest standard in dance floor. Why not make it extra special for you first wedding dance by adding dry ice to create a dancing in clouds effect with the LED lights shining through the fog.
Black LED Starlit Dance Floors
Black LED is one of the timeless classics within the events industry used for many purposes as well as just dancing from walkways to covering whole stages. As with all our floors they are completely compatible with each other which allows us to break away from the norm and combine our different floor types to make some Amazing patterns.
Black & White LED Starlit Dance Floors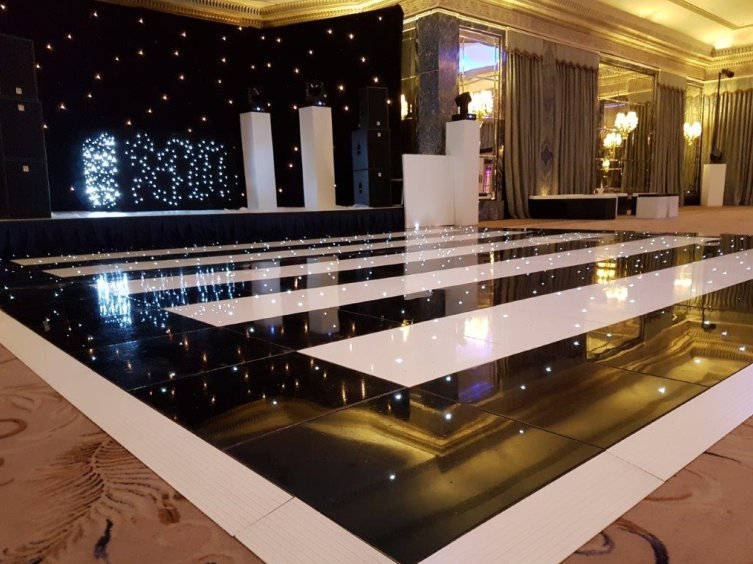 Mixed black and white LED dance floor - With our dance floors being completely compatible with each other why not make a black and white LED floor to add a different edge to your event or occasion. Or why not even have our led dancefloors with a colour commander pixel floor as the centre piece? With so many options available why stick to the norm.
White Dance Floors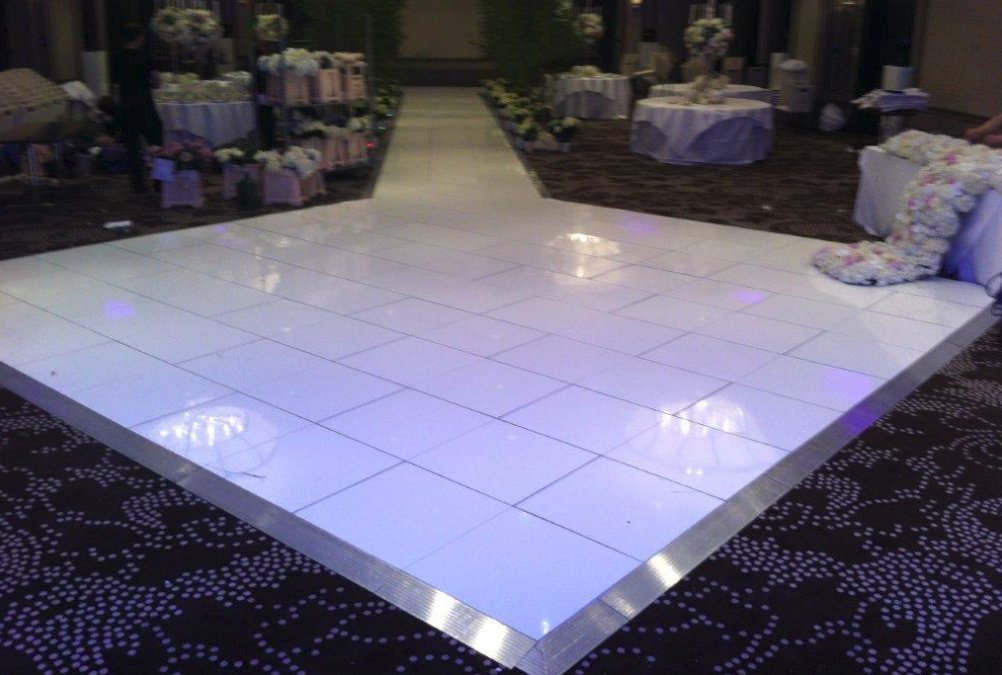 Pure white is one of the favourite dance floors for weddings, with its high gloss finish and clean looks. This floor is also perfect for adding your very own personal messages with either vinyl stickers or even with lighting. With the white base being neutral, any colour that you shine onto the floor will give off an amazing effect and can completely change the look of a room.
Black Dance Floors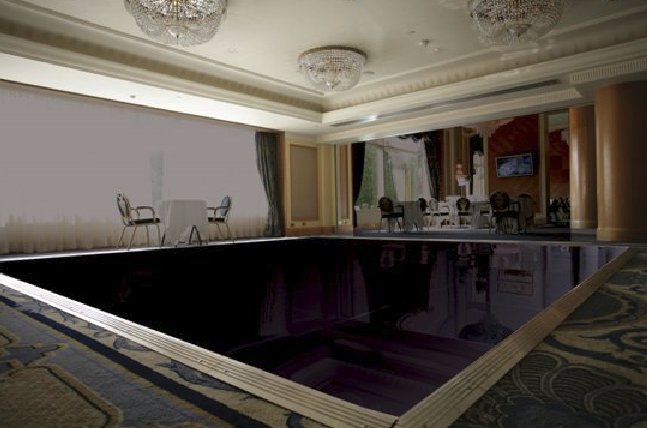 Pure black dance floors have always been very popular and will stand out at any event or function. Black floors with their high gloss finish can transform any room giving it a classy and contemporary look. These black dance floors are very popular in clubs and parties alike and will be delivered installed and collected at a time and date that suits you.
Black & White Dance Floors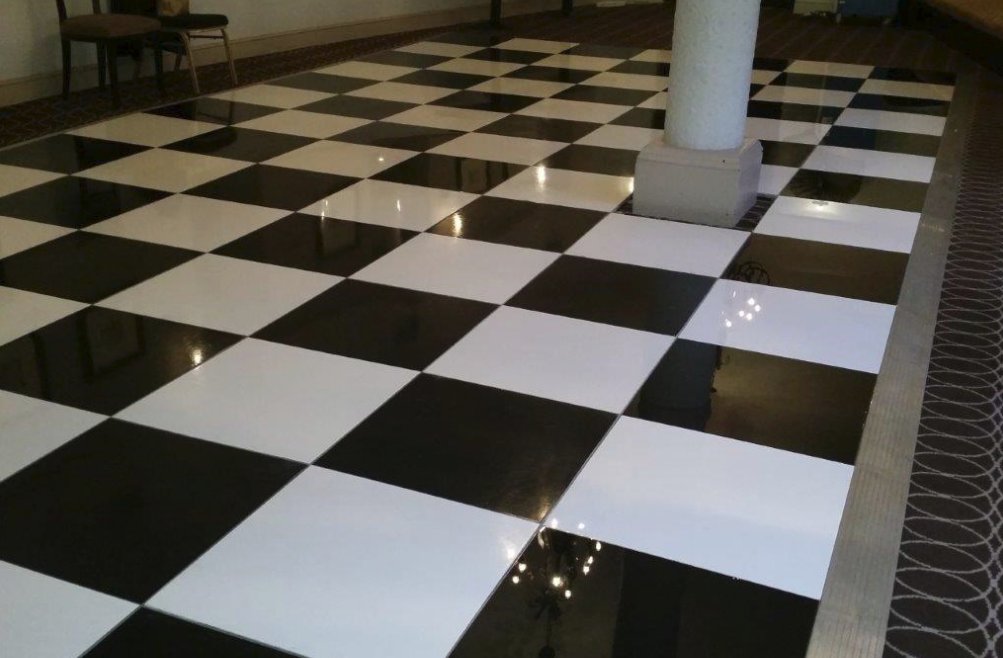 Black and white dance floor was one of the first to really take off on the market and has proved with time to be one of the favourites. The black and white floors add a fun but classy effect to your event with the deep gloss black and brilliant gloss white it is certain to impress. You can also create other effects with black & white such as stripes, boxes and staggered patterns.
Colour Commander Dance Floors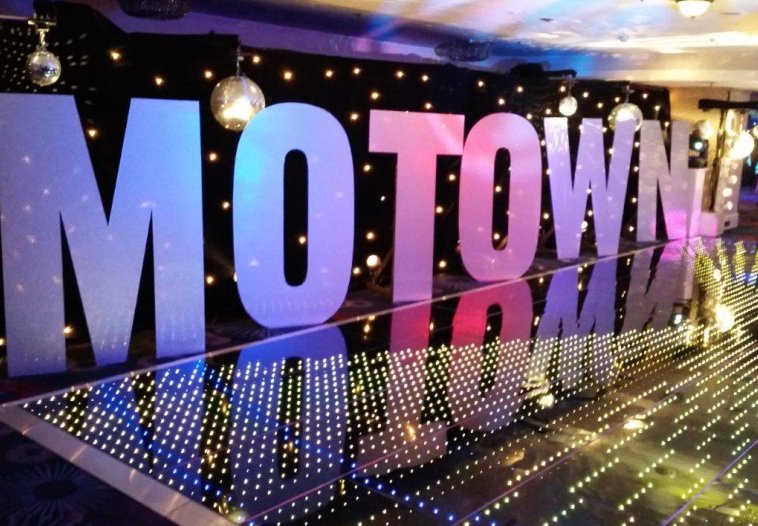 Our colour commander floor is the all singing all dancing floor for your event. With the ability to change colour, display scrolling text and even display low resolution images. Why not have your name in lights across the floor or even have it in the entrance way to your event with arrows pointing into your room. This LED dance floor is a must have.
Outside Dance Floors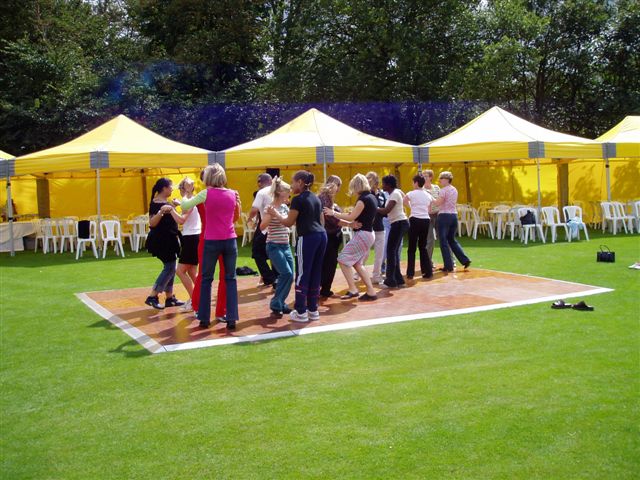 When it comes to outside dance floors we now stock the best there is. Our outside floor is in the same format as our indoor floors and has a brilliant wood effect surface that can be used outside in any weather. With its complete weather proof design on a strong aluminium frame it means that even if the ground isn't perfectly level the floor will stay securely locked together.
Raised Dance Floors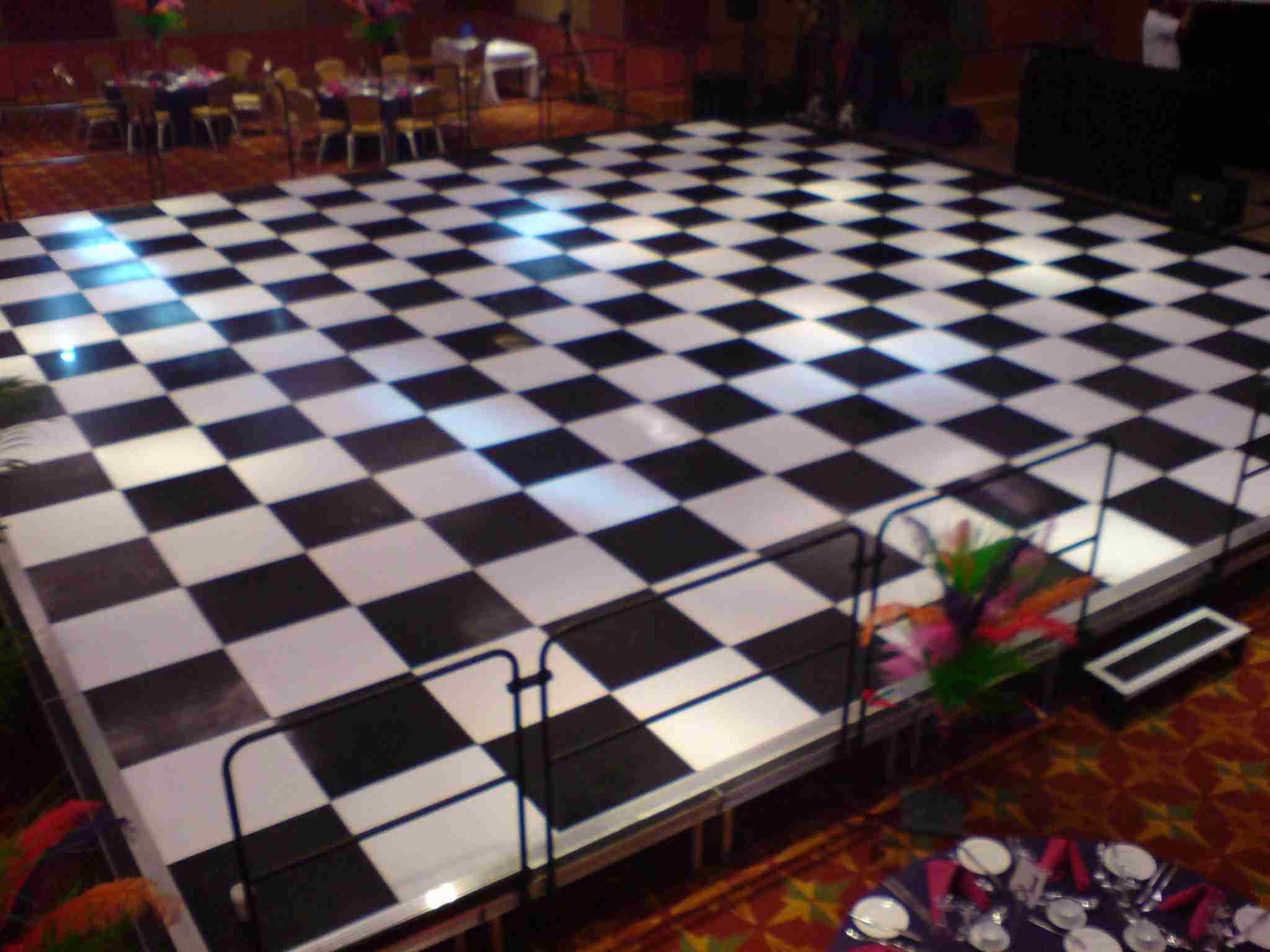 Why not create a different look to your event by raising the dance floor up from the surrounding areas by building it on top of a stage? This works perfectly for creating spaces such as VIP areas or even bridging over an object in the room which would cause you to the limit the dance space available. Raised dance floors can be tailored to suit your needs.
Circular Dance Floors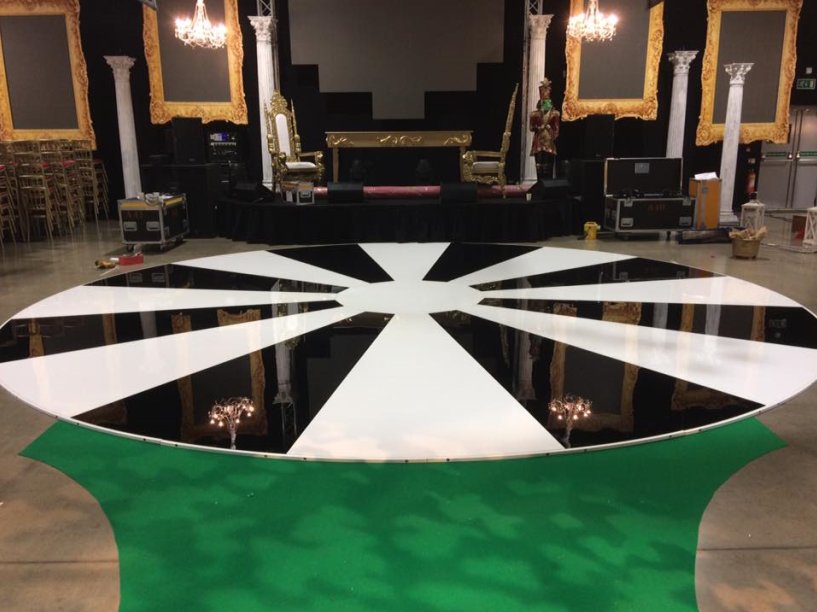 Our NEW Circular dance floor - We are the only company in the UK with our own solid circular dance floors in both white and black. Why have the cheaper alternatives which don't give you the flat glossy finish when you can have a solid acrylic floor made especially for us by the manufacturer. The circular floor will look amazing for any occasion or event.
Wooden Effect Dance Floors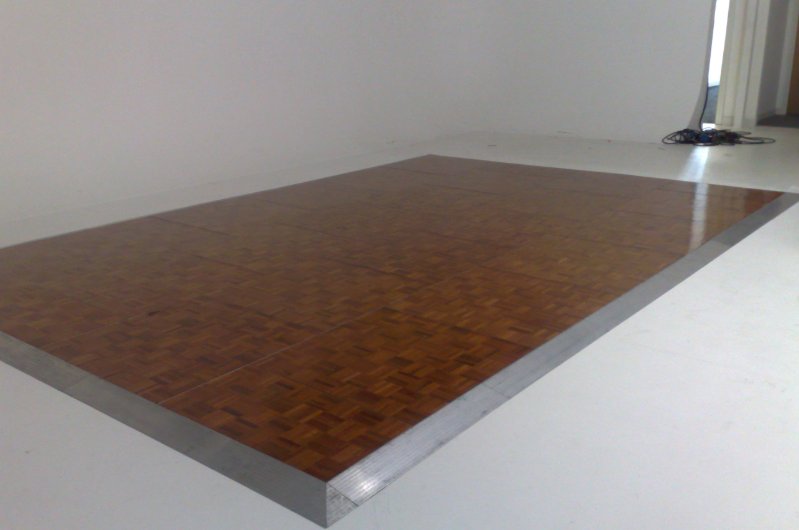 The wooden effect floor is the replacement to the long outdated oak parquet floor. This floor is perfect for both inside and outside use. With its tough base with aluminium frame it levels itself well on slightly uneven ground creating a great dance area for your outside party or event. With its new clean look with no fading like traditional wood floors you can always guarantee the perfect floor.
Mirrored Dance Floors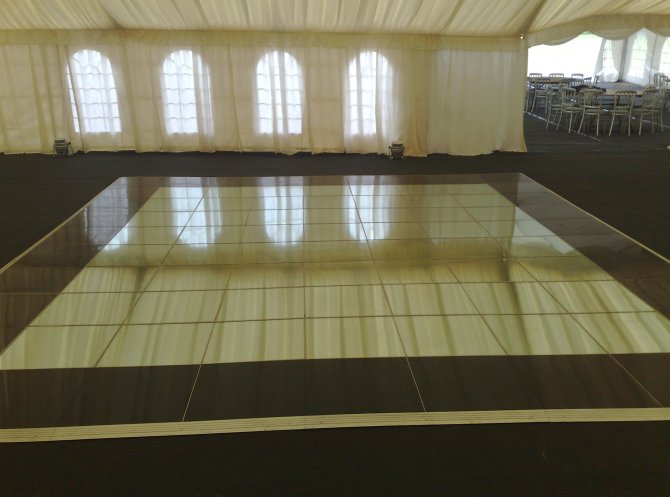 Our mirrored floor is the best available on the market. It is not a plastic floor; it is made from safety grade mirror glass. This gives a true mirror effect rather than a silver floor which shows ripples as never lays truly flat. This floor must be laid on solid level floors due to the nature of its construction. Please be aware that this is a true mirror finish so we would recommend providing guests with a suitable dress code.
About Us
Dance Floor Hire UK is Part of Paul Donnelly Services Limited. Paul Donnelly Services Limited was formed in 1999 and what we don't know about dance floors and event planning is not worth knowing.
Contact us today with your enquiry
07767707720 .
Company
Paul Donnelly Services Limited, THE MILL HOUSE
BOUNDARY ROAD, LOUDWATER
HIGH WYCOMBE
Bucks, HP10 9QN
P: 07767707720
F: 08712 88 44 70
E: info@pauldonnellyeventservices.co.uk